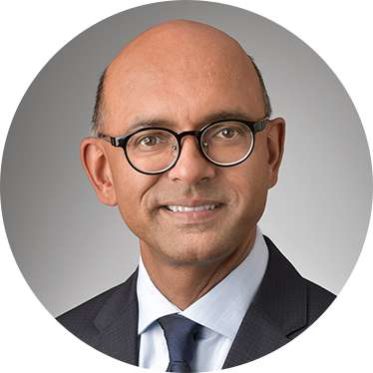 Rasesh M. Shah, MD, FACS
Vascular Specialist
Dr. Shah joined Sentara Vascular Specialists in March 2001 and serves on its board of directors. Dr. Shah is especially interested in the treatment of carotid artery disease and aneurysmal disease using open and endovascular surgical techniques. He is experienced in the placement of FDA-approved aortic endografts and with all types of peripheral endovascular interventions.
Prior to relocating to the Hampton Roads area, he was in private practice for seven years with the Buffalo Medical Group where he held an appointment as an assistant professor of surgery with the State University of New York at Buffalo.
Born in Bombay, India, Dr. Shah lived most of his life in the United States. He is a cum laude graduate of the University of Rochester, and received his medical degree from the University of Vermont College of Medicine. He trained in general and vascular surgery at the State University of New York at Buffalo Affiliated Hospitals, where he completed his vascular surgery fellowship in 1993. He is certified by the American Board of Surgery in both general and vascular surgery and is a Fellow of the American College of Surgeons (FACS).
Dr. Shah practices with Sentara Vascular Specialists and sees patients at our Virginia Beach office.